Show Length
Edit
Show Notes
Edit
With Wetwerks
Lori cut her right hand about midway through the set. Her hand bled for the remainder of the show, nearly covering her bass in blood. Thereafter, Super 400 fans referred to this performance as the "Bloody Valentine's" show.
Photos, Posters, Handbills
Edit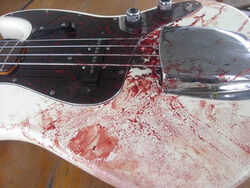 Recordings
Edit
AUD
Ad blocker interference detected!
Wikia is a free-to-use site that makes money from advertising. We have a modified experience for viewers using ad blockers

Wikia is not accessible if you've made further modifications. Remove the custom ad blocker rule(s) and the page will load as expected.