Biography
Edit
Blue Machine is a rock cover band consisting of the members of Super 400, plus vocalist Tommy Love.
Since 2001, Blue Machine has performed numerous shows in New York's Capital Region and around the northeast U.S.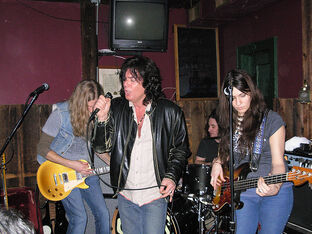 thumb|300px|left|Blue Machine Live - 'Strange Brew' April 18, 2009

thumb|300px|left|Blue Machine Live - I Ain't Got You - April 18,2009
Songs Covered
Edit
Blue Machine is known to have played each of the following covers live at least one time since 2003.
AC/DC
You Shook Me All Night Long
Aerosmith
Sweet Emotion
Allman Brothers
One Way Out
Statesboro Blues
Whipping Post
The Beatles
Helter Skelter
Come Together
Revolution
Ballad of John and Yoko
David Bowie
China Girl
Cream
Crossroads
Born Under a Bad Sign
Strange Brew
Sunshine of Your Love
Deep Purple
Hush
The Doors
Roadhouse Blues
Riders On The Storm
Jimi Hendrix
Spanish Castle Magic
The Hollies
Bus Stop
The Kinks
You Really Got Me
Tired of Waiting
All Day and All of the Night
Well Respected Man
Led Zeppelin
The Ocean
Dancing Days
The Song Remains The Same
What is and What Should Never Be
Whole Lotta Love
Heartbreaker
Livin' Lovin' Maid
Moby Dick
Immigrant Song
Lemon Song
Communication Breakdown
I Can't Quit You
Thank You
Black Dog
You Shook Me
How Many More Times
Hey Hey What Can I Do
Ramble On
Bring it on Home
Since I've Been Loving You
Over the Hills and Far Away
Dazed and Confused
Misty Mountain Hop
John Mayall
All Your Love
Rolling Stones
Satisfaction
The Last Time
It's All Over Now
Sympathy for the Devil
Wild Horses
Can't You Hear Me Knockin'
Brown Sugar
You Can't Always Get What You Want
Twenty Flight Rock
Happy
Street Fighting Man
Jumping Jack Flash
Love in Vain
Start Me Up
Stevie Ray Vaughan
This House Is Rockin'
Let Me Love You Baby
The Who
The Kids Are Alright
My Generation
Yardbirds
Train Kept A' Rollin
I Ain't Got You
Heart Full of Soul
The Zombies
Tell Her No
Ad blocker interference detected!
Wikia is a free-to-use site that makes money from advertising. We have a modified experience for viewers using ad blockers

Wikia is not accessible if you've made further modifications. Remove the custom ad blocker rule(s) and the page will load as expected.