The inaugural 'Super 400 Day' took place in Troy, NY on February 25, 2006.
In early 2006, the office of Troy, NY's Mayor Harry Tutunjian was contacted by a fan of Super 400, who suggested that the city honor Super 400 for their contributions to the Troy community, and to celebrate the band's 10 year anniversary.
A few weeks prior to the band's 10th anniversary show at the Ale House, it was confirmed that Mayor Tutunjian would indeed issue a proclamation declaring February 25th to be 'Super 400 Day.'
On the evening of the show, Lori read the proclamation on stage during the band's second set.
While the proclamation specifically declared the original date of February 25, 2006 to be 'Super 400 Day,' fans continue to celebrate 'Super 400 Day' as an annual event.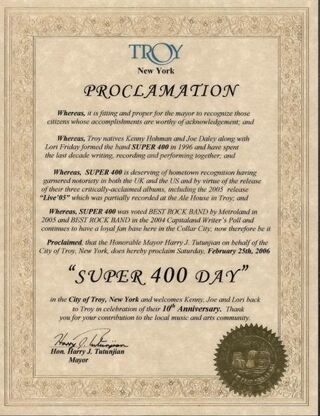 Ad blocker interference detected!
Wikia is a free-to-use site that makes money from advertising. We have a modified experience for viewers using ad blockers

Wikia is not accessible if you've made further modifications. Remove the custom ad blocker rule(s) and the page will load as expected.